25 March, 2021
The Hospital Clínic Group, pioneer and leader in robotic surgery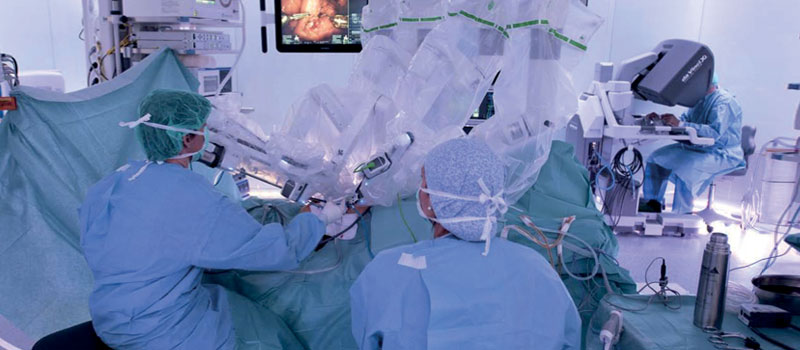 Greater precision in surgery and reduced risks and complications during interventions result in better outcomes for patients. This is what robotic surgery provides, one of the great advances that technological developments in medicine have made possible in recent years. One of the centres that has made the most significant commitment to this type of surgery is the Hospital Clínic Group and barnaclínic+.
Minimally invasive approaches are becoming more prevalent in surgery and the use of robots has facilitated a major qualitative leap in terms of their possibilities. Laparoscopic surgery was already a major step forward in a new way of performing surgery. Now, with the introduction of robotic surgery it is possible to perform ever more precise interventions and to reduce human error.
SIX YEARS AFTER THE FIRST ROBOTIC SURGERY
It was in January 2015 when the Hospital Clínic Group carried out its first robotic surgery and since then it has become a leading centre for this type of intervention. That same year, the doctors Antonio de Lacy and Antonio Alcaraz performed the first robotic surgeries at barnaclínic+. For Dr Noemí Pou, Director of Hospital Clínic's Surgical Area "the clear commitment to robotic surgery reinforces Clínic as a leading hospital in this type of surgery, focused on improvements for patients and providing professionals with the best technology to carry out their work".
WHAT IS THE FUTURE OF ROBOTIC SURGERY?
The use of robots during surgery is now allowing increasingly complex operations that would be impossible with other approaches. And it is being done with fewer complications and increased precision, but the options offered by this approach still offer much more scope for exploration, as Dr Antonio de Lacy, digestive surgeon at barnaclínic+, who heads the Gastrointestinal Surgery Department at Hospital Clínic, explains, who is one of the professionals most firmly committed to this new approach.
"We're still in the early days of robotic surgery. We're currently working through a platform, AIS Channel, in which Hospital Clínic participates, to improve communication between the robot and the surgeon. We're sending millions of images for future advances in fields such as remote surgery and other applications. And we'll start to witness these in no more than five years' time", says Dr Antonio de Lacy. Dr Antonio Alcaraz, who heads the Urology department and is a world leader in the use of robotic surgery in kidney transplants is also optimistic in this regard. "Surgery will move towards less and less invasive techniques, but without losing precision, and this is what robotic surgery brings".
"Surgery will move towards less and less invasive techniques, but without losing precision, and this is what robotic surgery brings"

 
WIDE RANGE OF SURGICAL OPTIONS
The centre currently has two Da Vinci® robots  that are used for the majority of surgeries and have recently been complemented by a new ROSA® robot for knee replacement surgeries. In addition, two training consoles are available for the training of resident surgeons.
All this equipment has allowed the options offered by robotic surgery to grow year after year. A record number of these surgeries were carried out in 2020, with a total of 406 interventions and that was an increase of more than 74% compared to 2018. This clearly shows how this approach to surgery is becoming increasingly important. And all this despite the difficulties posed by the covid-19 pandemic.
At the Hospital Clínic Group and, specifically at barnaclínic+, we currently perform operations in the areas of urology, gastrointestinal surgery, cardiovascular surgery, thoracic surgery, gynaecology and neurosurgery. But we are also working to continue including new areas and in this regard we have recently incorporated a ROSA® robot to perform knee replacements, in line with Hospital Clínic's commitment to robotic surgery.
UROLOGY, THE NUMBER ONE FIELD IN ROBOTIC SURGERY
The first robotic surgery interventions performed at the Hospital Clínic Group were in the field of urology. At present, 60% of robotic surgeries take place in this field. The most commonly performed procedure in the last year has been radical prostatectomy, a surgery used to remove the entire prostate gland and some of the tissues around it, which is mainly performed to treat prostate cancer. A total of 650 operations have been carried out at the Hospital Clínic Group since they began six years ago.
Robotic surgery for radical prostatectomy preserves more tissue, gives the surgeon a better view and reduces the margin of error. All this helps to achieve an improvements in data related to impotence and incontinence.
The other two most common procedures performed are cystectomies, in which the surgeon removes the patient's bladder and then performs a urinary diversion to allow a new way of storing urine and eliminating it from the body, and kidney transplants. Likewise, in early October 2020, the first uterus transplant in Spain was carried out, which was partially performed with robotic surgery.
Robotic surgery for kidney transplantation
Regarding kidney transplantation, in 2022 the Clínic Barcelona achieved the milestone of 200 kidney transplants in one year; of which a large number were performed using robotic surgery. In fact, in 2021, the Clínic became the first hospital in Spain to carry out 1,000 living donor kidney transplants. And of these 1,000, 110 were performed using robotic surgery. Until then, the Clínic had carried out more than 5,000 of any type.
Robotic surgery fer kidney transplantation offers multiple advantages for the patient and for the professionals. Although there is used the same time to perform the intervention as with conventional open surgery, it greatly reduces the complications and offers a better and faster recovery for the patient. Dr Mireia Musquera, a urologist specialising in urologic oncology and head of kidney transplants, points out how the use of robotic surgery has improved functional and oncological results, as well as reducing morbidity rates. "The possibility of magnifying images, the use of 3D vision and instruments with improved mobility make it possible to dissect tissues much more precisely than with laparoscopy". The possibility of carrying out operations in an intracorporeal way also makes it possible to reduce the number of incisions, thereby reducing the risk of bleeding and infection of the abdominal wall when carrying out kidney transplants.
"Robotic surgery allows for much more precise tissue dissection than laparoscopy"
IMPORTANT APPLICATIONS IN THE GASTROINTESTINAL SURGERY DEPARTMENT
The Gastrointestinal Surgery Department headed by Dr Antonio de Lacy has mainly implemented the use of robots in colorectal surgery and bariatric surgery. The elimination of tremors and the potential use of multi-jointed instruments that facilitate complex manoeuvres that would be difficult to perform with laparoscopic instruments are the two main improvements that robotic surgery brings in this area.
Within colorectal surgery, it is mainly used for the treatment of cancer. Its use allows improved and more careful dissection of the blood vessels involved, facilitates manoeuvres that may be anatomically complex and facilitates dissection manoeuvres in patients that pose more complications, such as a narrow pelvis or large tumours, aiding better dissection and mobilisation of the rectum.  These surgeries are led by Dr Raquel Bravo and Dr Ana Otero.
Regarding bariatric surgery, the use of robotic platforms has a clear benefit in improving both the ergonomics and the precision of manoeuvres during interventions. The results of robotic-assisted bariatric surgery show that this approach is linked to a lower rate of serious complications, a shorter average length of stay and lower mortality primarily in super obese patients. Moreover, its use allows and facilitates the utilisation of more complex techniques such as the different types of biliopancreatic bypass or revision surgery. This type of robotic surgery is led by Dr JM. Balibrea.
GYNAECOLOGICAL SURGERY AND THE IMPORTANCE OF PRECISION
Another area where robotic surgery is providing significant benefits is in the field of gynaecological surgery. For Dr Berta Díaz-Feijoo, of the Gynaecology Department led by Dr Francesc Carmona, "the use of robots allows us to perform high-precision surgery. This is essential for some of the interventions we carry out, such as uterus transplantation".
"Robotic surgery allows us to perform high-precision gynaecological surgery. This is essential for some of the interventions we carry out, such as uterus transplantation"
Among the most frequent interventions performed in this area using robotic surgery are a radical hysterectomy, in which the surgeon removes the uterus, cervix, fallopian tubes, ovaries, part of the vagina and surrounding lymph nodes, and is an intervention used in the treatment of gynaecological cancer, and endometrial surgery.
It should be noted that about 40% of endometrial cancer cases are related to obesity. It is precisely in these cases that the use of robots can offer significant advantages, including better visualisation and precision for the movements of robotic instruments.
ONE YEAR AFTER THE FIRST ROBOTIC SURGERY IN THE CARDIOVASCULAR SURGERY DEPARTMENT
The first centre in Spain to perform robotic cardiac surgery was Hospital Clínic. In this case, this approach now makes it possible to perform operations that used to require very aggressive open surgery, which greatly broadens the range of patients who can be operated on. With robotic surgery, as it is not necessary to open the chest, the level of surgical aggression is greatly reduced. This also means less postoperative pain for the patient, better cosmetic results, fewer complications and faster recovery times.
The most common interventions performed are mitral valve repair and replacement, tricuspid valve repair and atrial septal defect repair (a congenital heart defect). This type of surgery has also begun to be used to treat cases of revascularisation with a coronary bypass.
Daniel Pereda, surgeon of the  Cardiovascular Surgery Department says "we're very satisfied with the programme, we've fulfilled all our expectations for these first years of operation and we have clear data that shows with this type of intervention we reduce the average length of stay significantly". Specifically, after mitral valve repair patients go home on average almost four days earlier, which means a 35% reduction in the average length of stay.
"We're very satisfied with the robotic surgery programme, we've fulfilled all our expectations. We have clear data that shows with this type of intervention we reduce the average length of stay significantly"
NEW APPLICATIONS: THORACIC SURGERY AND KNEE REPLACEMENTS
The Thoracic Surgery Department, led by Dr Laureano Molins, began robotic thoracic surgery in January 2021. The operations they carry out are lung lobectomies, a surgical procedure to remove one of the lobes of the lungs, usually performed after an early stage diagnosis of lung cancer allowing the rest of the healthy lung to be preserved. This is in addition to mediastinal lymphadenectomies, in which the lymph nodes of an organ that may be affected by the spread of tumour disease are dissected and removed, as well as resections of mediastinal cysts and tumours, which are formed in the cavity between the sternum and the spine and the two lungs.
The advantages of robotic surgery in the field of thoracic surgery are a better view of the 3D surgical field and the elimination of tremors, allowing for more precise surgery with fewer complications. In addition, the effective attachment system of the robot arms means that they stay in one direction without damaging the intercostal nerves, which reduces postoperative pain that is common after thoracic surgery. The average length of stay of patients can be reduced for these two reasons.
The advantages of robotic surgery in the field of thoracic surgery are a better view of the 3D surgical field and the elimination of tremors, allowing for more precise surgery with fewer complications
The Orthopaedic Surgery and Trauma Surgery Department, headed by Dr Pere Torner, began robotic knee surgery in December 2020. The introduction of this type of robotic surgery allows, among other things, better measurement of surgical parameters, greater precision in the size and type of prosthesis and greater precision in the cutting of the tibia, femur and ligament tension. In short, robotic surgery allows the whole process to be much more precise and, above all, facilitates more personalised surgery, adapted to the particular needs of each patient. The Zimmer® robot, ROSA® (Robotic Surgical Assistant) is used for this type of surgery.
ROBOTIC NEUROSURGERY, MANY OPTIONS FOR THE FUTURE
The Neurosurgery Department, led by Dr Joaquim Enseñat, uses cutting-edge robotic technology to develop more precise and safer surgery.  In particular, operating theatres are equipped with intraoperative imaging and neuronavigation equipment that allows real-time imaging of the surgical field.
In this way, it is possible to verify the accurate and safe placement of electrodes in deep brain stimulation for movement disorders, neuropsychiatry and epilepsy surgery. This is a tool that has greatly revolutionised the procedures performed to date, allowing for more precise, safer and more comfortable surgery for patients. In the field of spinal surgery, safer and more precise surgery is also ensured. Lastly, cerebrovascular disease also benefits from this technology, through intraoperative visualisation of cerebral vascular injuries and allowing intraoperative verification of their correct treatment.
The state-of-the-art AutoGuide® robotic arm is an excellent assistant for the implantation of deep brain electrodes to ensure a more precise implantation, resulting in a more efficient procedure.  Likewise, the Hybrid Robotic – Kinevo® Digital Visualisation Platform facilitates minimally invasive neurosurgery operations and optimises both procedure time and accuracy, which is of great benefit to patients. It is a surgical microscope that provides greater definition of neural structures, both in the brain and in the spine and peripheral nerves, as well as improved surgical precision in these patients.
---