Prostate cancer diagnosis

WHAT IS IT?
Prostate cancer is a very common illness. Prostate cancer affects men who are over 50 years of age, especially those who have family (fathers or brothers) with the same pathology or men with high PSA (a specific prostate antigen). Fortunately, this type of cancer can be cured if it is diagnosed at an early stage.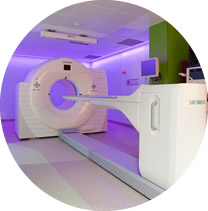 THE BEST DIAGNOSTIC TEAM
In the Urology and Men's Health Unit our team of urologists, radiologists and biochemists are well recognized in the prostate cancer diagnosis field. We have the modern 3T Nuclear Magnetic Resonance , one of the most powerful and accurate tools for the non-invasive diagnosis of prostate cancer . Also, in cases where a biopsy is necessary, our diagnostic team is able to complete this under sedation, in order to minimize the impact of the procedure.
El cáncer de próstata acecha a la población masculina, siendo el gran temido al entrar en nuestras consultas. Se trata de un cáncer que aumenta con la edad y que va a depender de factores hormonales. En otras ocasiones ya os hemos hablado de la relación de la dieta y el ejercicio con la disminución […]

Leer más sobre "Curiosa relación entre altura, peso y cáncer de próstata"

El cáncer de próstata es una de las mayores preocupaciones de los varones cuando llegan a cierta edad. Esto se debe a que se trata de uno de los cánceres más frecuentes a partir de los 50 años en los hombres. Para su diagnóstico, nos servimos inicialmente del tacto rectal y de los análisis de […]

Leer más sobre "La atrofia prostática disminuye el riesgo de cáncer"

El pasado 11 de junio se celebró el Día Mundial del Cáncer de Próstata y hoy queremos haceros llegar algunas de los avances y las novedades más candentes respecto al tratamiento de esta patología. El Cáncer de Próstata En otros post ya os hemos hablado de que el cáncer de próstata es una patología muy […]