Lines of care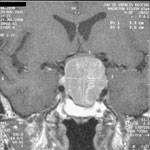 PITUITARY TUMOUR
The Neurosurgery team of the Hospital Clínic Group is a pioneer in the use of endoscopic techniques for the treatment of tumors of the pituitary gland, having performed more than 300 procedures of minimally invasive surgery. The benefits of the technique compared to the classical technique directly benefit the patient with a significant reduction of local complications, a decrease in surgical time, an increase in comfort for the patient and a reduction in the average postoperative stay, which can be only 24 - 48 hours in centers with vast experience like ours.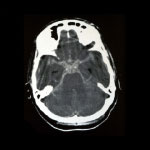 CEREBRAL ANEURISM
The treatment of cerebral aneurysms must be done in centers with experienced professionals and multidisciplinary teams. It is performed by cerebral microsurgery or sometimes by embolization (through the artery) depending on the characteristics of the aneurysm, the age and the neurological state of the patient.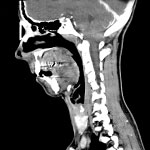 ARNOLD-CHIARI MALFORMATION
The therapeutic base of Arnold-Chiari Malformation is mainly focused on surgical treatment since there is no evidence that medical treatment interrupts the process. There are several possibilities for surgical treatment for the Arnold-Chiari Malformation. All of them are aimed at decompressing the cerebellar tonsils and restoring the cerebrospinal fluid circulation between the cranial and spinal compartments.
BRAIN TUMOUR
In most cases, if the brain tumor is not very widespread or the patient's conditions do not allow it, surgery is the treatment of choice. The objectives of brain tumour surgery are, on the one hand to obtain tissue for an accurate diagnosis of the tumor (biopsy) and on the other to achieve the highest degree of excision possible.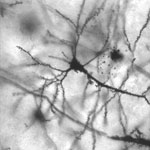 FUNCTIONAL NEUROSURGERY
The Functional Neurosurgery Program at the Hospital Clínic of Barcelona celebrates 22 years, in which more than 1.000 patients with epilepsy and Parkinson's Disease and other movement disorders have been treated. In 2006 the Sant Joan de Dèu Hospital was incorporated, and today it is the National Reference Unit (CSUR) of the National Health System in refractory epilepsy, surgery of movement disorders and in rare diseases that deal with movement disorders, in adults and children, respectively.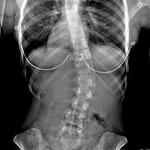 CERVICAL AND LUMBAR PATHOLOGY
Discopathy is a cervical pathology in which all or part of a disc of the spine (intervertebral) dehydrates, loses height (black disc) and, on many occasions, travels through a weakened ligament. This disc produces pain due to its deterioration, and the herniated part can exert pressure on the nerves or spinal cord, causing neurological lesions or sciatic pain. Conservative treatment methods range from physiotherapy to pain therapy. Once these methods have been proven, the Disc-FX procedure is presented as the best alternative before reaching an open surgery.
On the other hand, the D-Trax System is a minimally invasive posterior cervical fixation solution, indicated for the treatment of instability and cervical impingement with pain.
Highlighted Surgeries and procedures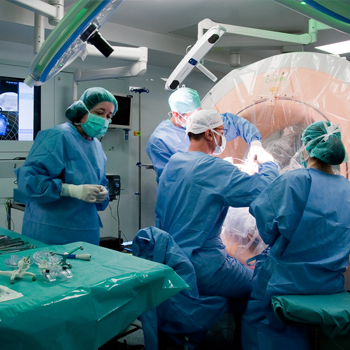 INTEGRATED NEUROSURGERY OPERATING ROOM WITH INTRAOPERATIVE IMAGE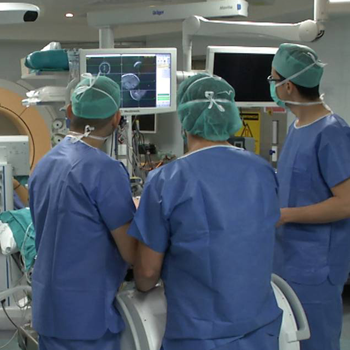 DISC-FX, MINIMALLY INVASIVE TREATMENT OF DISCOPATHY WITH OR WITHOUT HERNIA
Disc-FX is known as percutaneous endoscopic nucleoplasty. This is, a minimally invasive and percutaneous technique. This intervention involves inserting a guide needle and a working cannula laterally through a small incision in the skin to the affected disc. Control of the operation is done by means of an endoscopic camera installed in the working cannula. The disc herniation is eliminated by a disc clamp and a cold radiofrequency probe (Elliquence system®), which has just removed the compressive material and inflammation.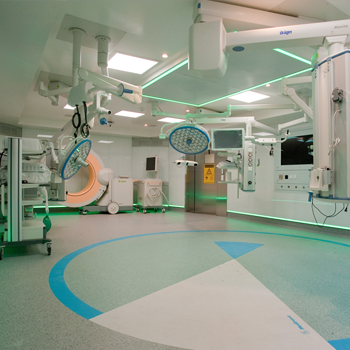 ICM+® THE BEST TECHNOLOGY FOR THE DIAGNOSIS AND TREATMENT OF THE HYDROCEPHAL
ICM+® is a state-of-the-art technological resource aimed at the accurate diagnosis of cerebrospinal fluid pathology and the treatment of hydrocephalus. The technology of this software allows to capture, process, analyze and save in real time all the indicative parameters of the state of the patient and the disease. Although more and more hospitals are acquiring this software, there are still few centers in Europe that can offer this technology. On the other hand, the accumulated experience in its use and development is a key factor to offer the best results.
D-Trax System, the best treatment option for cervical fixation and decompression
The D-Trax System allows, through low-invasive and outpatient surgery, to stabilize the cervical spine and decompress those areas where impingement has occurred. This is to control cervical pain and its possible radiation to one or both arms. It is a mini box, for percutaneous placement, which fixes and separates the space that articulates the vertebrae in their posterior area. This produces a stabilizing and decompressive effect on the cervical spine that presents this problem.
MATERIAL RESOURCES
MOLECULAR DIAGNOSIS

Experience in anatomopathological studies.

TREATMENTS IN DAY CARE CENTER

Chemotherapy, targeted treatment and immunotherapy

HIGH COMPLEX INTERVENTIONS

Including cytoreductive surgeries with microwaves and HIPEC (hyperthermic intraperitoneal chemotherapy) for pulmonary and hepatic metastases

RADIOTHERAPY

Including IMRT (intensity modulated radiotherapy), intraoperative radiation therapy and brachytherapy.

PSYCHOLOGISTS AND PSYCHIATRIES

Specialized in cancer patients

INTENSIVE CARE UNIT

LOCAL TREATMENTS

Chemo / hepatic, radiofrequency and microwave radioembolization for pulmonary and hepatic metastases

SYMPTOMATIC TREATMENT / PALLIATIVE CARE CENTER

accredited by ESMO
If you want to make a remote consultation or if you want to request a second opinion without leaving home, with our neurosurgery professionals, you can do so below by requesting a televisit by video conference.
OUR Results
800

Interventions a year

+300

minimally invasive surgeries of pituitary tumour

+1100

Functional neurosurgery interventions (Parkinson and Epilepsy)

+40

surgical interventions for disc joints with DISC-FX

80%

success rate

+25

years of experience

<1%

Mortality rate
Our medical team is completely dedicated to patients with neurological diseases. As a result, our patients' follow-up is always done by the same team of professionals throughout the entire process. Specially trained hospital nurses and nursing assistants, have extensive experience in the care of these patients with a nurse-to-patient ratio that is never more than 1:6.
LAST NEWS
Minimally Invasive Neurosurgery is a range of surgical techniques that allow access to the brain, the skull base and the spine, with minimal harm to the patient. Minimally invasive neurosurgery was initially developed as a minimally aggressive and invasive approach to treating complex brain tumours. IT MAY INTEREST YOU… · barnaclínic+ finances new robotic visualisation platform for neurosurgery at […] La entrada What is Minimally Invasive Neurosurgery? aparece primero en Blog de Neurocirugía.

Brain tumour surgery has two main functions: to obtain tissue to make an accurate diagnosis (biopsy) and to achieve the highest possible degree of excision. At barnaclínic+, we have the latest advances to obtain the maximum volume of excision with minimal patient impact, in addition to the best techniques for diagnosis and typing of the […] La entrada Latest advances in brain tumour surgery aparece primero en Blog de Neurocirugía.