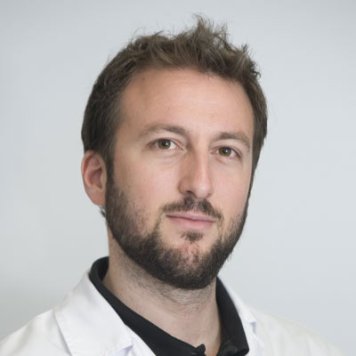 Dr. Pedro Roldán Ramos
· Specialist in Neurosurgery.
---
· Lecturer at the Faculty of Medicine of the University of Barcelona.
· Professor at the University of Barcelona of the subject: Fundamentals of surgical technique in Neurosurgery.
· Implementation of the first interventional magnetic resonance imaging in a public hospital of the Spanish National Health System.
· 2013 Mutual Médica scholarship for doctoral thesis completion.
· Areas of interest: Image Guided Surgery, Functional neurosurgery, Oncological surgery, Degenerative disease of cervical and lumbar spine, Cerebrospinal fluid Diseases and Traumatic brain injuries.
· Medical resident at Son Espases University Hospital in Palma de Mallorca, and later attending physician of Neurosurgery in the same hospital
· Attending Neurosurgeon in the Clinic University Hospital, Barcelona, since August 2014.
· More than 7 years experience in neurosurgery, with over 100 scheduled surgeries a year and many other urgent.
· Stay at National Hospital for Neurology and Neurosurgery "Queen's Square Hospital", London