THE HOSPITALISATION UNIT TEAM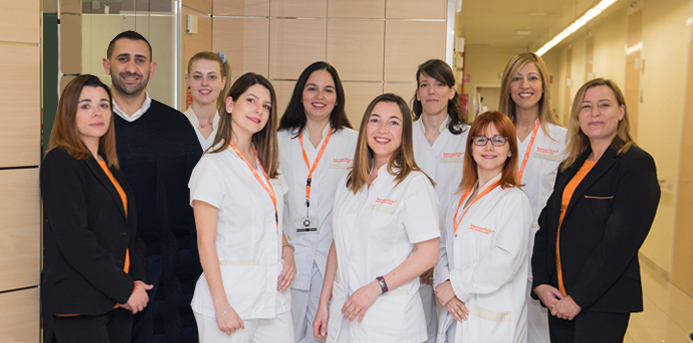 The barnaclínic+ nursing team is made up of professionals specialised in the care of complex pathologies, with years of accumulated experience and continuous training. The nurse care and care model of the Nursing Administration of the Hospital Clínic de Barcelona enables managing highly complex pathologies with innovative and effective responses.
Are you scheduled to enter our hospitalisation unit? At the link below you can download the guide for hospitalised patients, where you will find all the information you need for before, during and after your stay at barnaclínic+. And remember, if you have any further questions, contact us or call +34 93 227 93 91
INSTRUCTIONS BEFORE A TEST
CARE PERSONNEL IN THE HOSPITALISATION UNIT
Mª CARMEN SÁNCHEZ

ANA BOU

LOLI CANILLAS

SORAYA GÓMEZ

VANESA CUNILL

DAYANA GONZÁLEZ

MÍRIAM CORTINAS

CLAUDIA GARCÍA

NOELIA CÁMARA

MIREIA PANCORBO

PAULA GIMÉNEZ

CRISITINA GARCÍA
Patient managers
YOLANDA SÁNCHEZ

YASER MOHADR

NEUS PONCE
B+ NURSING RECOMMENDATIONS
Uno de los temas que frecuentemente genera cierta confusión entre pacientes y médicos son los cambios en la función pancreática tras la cirugía y cómo tratarla. El empeoramiento de las distintas funciones del páncreas es un hecho bien estudiado, que no ocurre en todos los pacientes. Sin embargo, su diagnóstico puede ayudar a presentar un […] La entrada ¿Qué sucede con la función pancreática tras la cirugía? aparece primero en Blog de Cirugía del Páncreas.

Uno de los motivos de consulta más frecuente en cirugía pancreática durante los últimos años es la aparición, muchas veces de forma incidental, de un quiste en el páncreas. Es entonces cuando el paciente se pregunta: ¿Es importante? ¿Me tengo que preocupar? ¿Me tendré que operar? Te puede interesar… – Quiste de páncreas: Tipos y características ¿Por […] La entrada Tengo un quiste en el páncreas ¿me tengo que preocupar? aparece primero en Blog de Cirugía del Páncreas.

Dentro de todo el espectro de la cirugía abdominal, la cirugía pancreática está considerada como una de las más exigentes desde el punto de vista técnico, así como en cuanto a la posible presencia de complicaciones postoperatorias. Esto es debido a las características de localización anatómica del páncreas, que se encuentra rodeado de unas estructuras […] La entrada ¿Cuál es el papel de la laparoscopia en la cirugía del páncreas? aparece primero en Blog de Cirugía del Páncreas.