THE HOSPITALISATION UNIT TEAM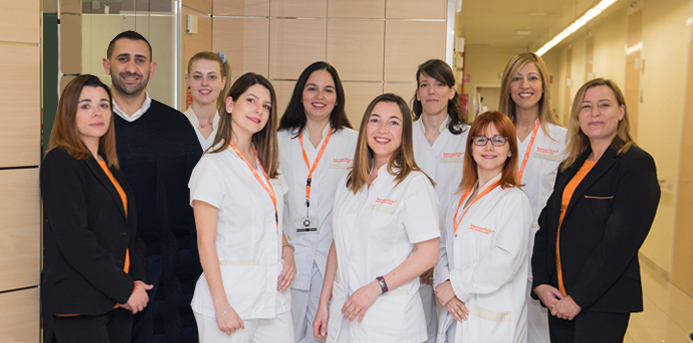 The barnaclínic+ nursing team is made up of professionals specialised in the care of complex pathologies, with years of accumulated experience and continuous training. The nurse care and care model of the Nursing Administration of the Hospital Clínic de Barcelona enables managing highly complex pathologies with innovative and effective responses.
Are you scheduled to enter our hospitalisation unit? At the link below you can download the guide for hospitalised patients, where you will find all the information you need for before, during and after your stay at barnaclínic+. And remember, if you have any further questions, contact us or call +34 93 227 93 91
INSTRUCTIONS BEFORE A TEST
CARE PERSONNEL IN THE HOSPITALISATION UNIT
ANA BOU

Mª CARMEN SÁNCHEZ

ANNA CARBONELL

CLAUDIA GARCÍA

DAYANA GONZÁLEZ

DAVID SANZ

MIREIA PANCORBO

MÍRIAM CORTINAS

JESSICA QUEIPO

NUR AL-MANE

CANDELA ROCÍO ANTELO

ELISABET ROMERO

KNARIK AVETSIYAN

MARIA LLEYDA

CAROLINA CHAMERO
Patient managers
YOLANDA SÁNCHEZ

YASER MOHADR

NEUS PONCE
B+ NURSING RECOMMENDATIONS
El páncreas es un órgano fundamental para la digestión de los alimentos. Es una glándula que forma parte del sistema digestivo que presenta una estructura con forma alargada de unos 200 gramos de peso y 20 cm de longitud y que consta de tres partes: una cabeza, un cuerpo y una cola. Se encuentra localizado […] La entrada ¿Qué es el páncreas, qué función tiene y qué enfermedades puede desarrollar? aparece primero en Blog de Cirugía del Páncreas.

Desafortunadamente, desde hace unos meses, la irrupción de la pandemia de la enfermedad COVID-19 ha ejercido una enorme influencia en todos los aspectos de la vida. Provocada por el coronavirus SARS-CoV-2, esta enfermedad nos obliga a una situación que parecería de ciencia ficción hace solo unas semanas. La saturación del sistema de salud nacional ha condicionado que, en los puntos […] La entrada Cáncer de páncreas en tiempos de coronavirus aparece primero en Blog de Cirugía del Páncreas.

La cirugía de Whipple o duodenopancreatectomía cefálica es un procedimiento quirúrgico indicado, sobre todo, en casos de tumores localizados en la cabeza pancreática. La intervención de Whipple es muy agresiva y, por este motivo, debe realizarse obligatoriamente en centros con un elevado volumen y experiencia en cirugía del páncreas, que cuenten con un equipo multidisciplinar experto en este tipo de intervenciones. ¿En qué […] La entrada ¿Qué es la cirugía de Whipple? Objetivo, resultados y postoperatorio aparece primero en Blog de Cirugía del Páncreas.