THE HOSPITALISATION UNIT TEAM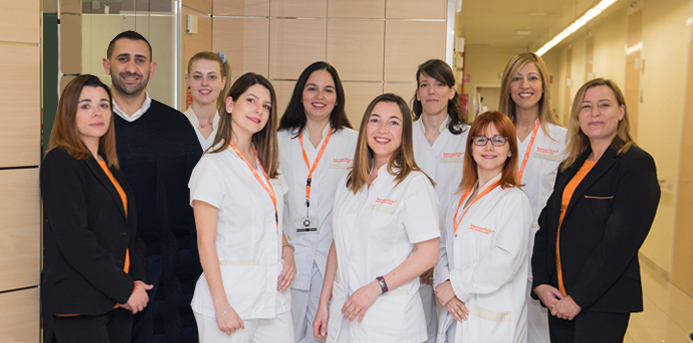 The barnaclínic+ nursing team is made up of professionals specialised in the care of complex pathologies, with years of accumulated experience and continuous training. The nurse care and care model of the Nursing Administration of the Hospital Clínic de Barcelona enables managing highly complex pathologies with innovative and effective responses.
Are you scheduled to enter our hospitalisation unit? At the link below you can download the guide for hospitalised patients, where you will find all the information you need for before, during and after your stay at barnaclínic+. And remember, if you have any further questions, contact us or call +34 93 227 93 91
INSTRUCTIONS BEFORE A TEST
CARE PERSONNEL IN THE HOSPITALISATION UNIT
Mª CARMEN SÁNCHEZ

ANA BOU

LOLI CANILLAS

SORAYA GÓMEZ

VANESA CUNILL

DAYANA GONZÁLEZ

MÍRIAM CORTINAS

CLAUDIA GARCÍA

NOELIA CÁMARA

MIREIA PANCORBO

PAULA GIMÉNEZ

CRISITINA GARCÍA
Patient managers
YOLANDA SÁNCHEZ

YASER MOHADR

NEUS PONCE
B+ NURSING RECOMMENDATIONS
Los pacientes sometidos a una cirugía del páncreas tienen que afrontar diversas dificultades en el período postoperatorio.  Estas dificultades abarcan desde la reintroducción de la dieta a la normalización de todos los aspectos funcionales. En este post vamos a tratar en qué consiste la recuperación de una cirugía del páncreas, los temas más importantes, siempre […] La entrada Recuperación de una cirugía del páncreas: Medidas generales a tener en cuenta aparece primero en Blog del Dr. Sánchez Cabús.

La pancreatitis crónica es una patología que produce una serie de cambios en el páncreas como consecuencia de una inflamación mantenida en el tiempo. En los casos evolucionados, se acompaña de una pérdida de la función pancreática, tanto endocrina como exocrina, y de la aparición de cambios morfológicos en el páncreas. Estos cambios aparecen como […] La entrada Evolución de la pancreatitis crónica ¿Cuándo y cómo se debe operar? aparece primero en Blog del Dr. Sánchez Cabús.

Con frecuencia los pacientes que se someten a una cirugía del páncreas tienen una gran preocupación por su resultado y posibles complicaciones. Esto es debido en gran parte a la mala fama que tiene el adenocarcinoma de páncreas, que a día de hoy sigue constituyendo la indicación principal de la cirugía de resección del páncreas. […] La entrada Complicaciones en cirugía del páncreas ¿Qué puede pasar? aparece primero en Blog del Dr. Sánchez Cabús.