3 December, 2019
Shoulder dislocation: What is it and when should it be operated?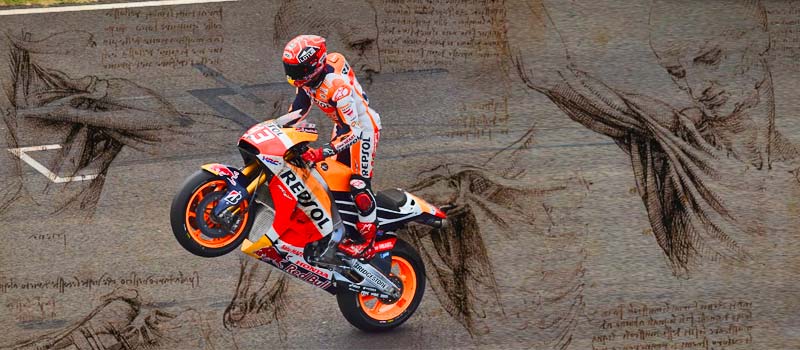 The pilot Marc Márquez recently had to be operated for his recurrent shoulder subluxation. Shoulder dislocation or a dislocated shoulder is what is generally referred to as "the shoulder popped out of its place". This injury must be treated with caution, and if it becomes recurrent it must be repaired through arthroscopic surgery . Let's see what this injury consists of, when it is considered recurrent and when it is necessary to operate.

MARC MÁRQUEZ' SHOULDER DISLOCATION
Last year Marc Márquez suffered a left shoulder dislocation, for which he had to be operated on with a mixed technique (we will see the different types of shoulder dislocation surgery later on). The Repsol Honda rider underwent this type of surgery because, as a motorcyclist, there was a high probability that he would suffer direct trauma to the shoulder again and that said lesion would represent itself. These types of (mixed) procedures have their advantages, but they also come with disadvantages. Interventions carried out on elite athletes usually prioritize their almost immediate return to the sports practice. Which, in many cases, does not play in favour of their health. When the patient is an ordinary person or a recreational athlete, a personalized treatment is always recommended, where the specialist can explain possible risks and benefits of each technique to be performed.
WHAT IS A SHOULDER DISLOCATION?
As abovementioned, a dislocated shoulder is what is known colloquially as "the shoulder popped out of its place." It is the consequence of a major trauma. Due to the rupture of the ligaments that stabilize the glenohumeral joint, the head of the humerus "pops out" and stops being in contact with the glenoid. This comes with excruciating pain and the patient needs to go to an Emergency Center so that the doctor can "put it back in its place."
AND WHAT IS A SHOULDER SUBLUXATION?
Shoulder subluxations occur when the ligaments aren't completely injured. In case of a shoulder subluxation, the head of the humerus moves out of its place but doesn't come out completely, returning to its place on its own.
The injured ligaments are the main stabilizers of the shoulder, whereas the muscles surrounding the shoulder are so called secondary stabilizers. Once a shoulder dislocation or subluxation has become recurrent, the only way to fix it completely is through surgery.
PHYSIOTHERAPY FOR SHOULDER DISLOCATION
Muscle toning through targeted physiotherapy can help prevent shoulder dislocation. However, in no case will it solve the problem, nor avoid new traumatic episodes in a safe and effective way.
WHAT IS RECURRENT SHOULDER DISLOCATION?
Up to 1/3 of dislocated shoulder cases do not heal well and become recurrent. This means that, with minimal movements, "the shoulder leaves its site" either totally or partially. This type of injury causes significant functional limitations to patients. This percentage can increase to 85% among men, youth, and practitioners of contact sports and dominant arm activities.
Once there have been two episodes of shoulder dislocation, especially if the second happened with minimal trauma, the injury takes the name of recurrent dislocation. In other words, it will happen again over time. The number of shoulder dislocation episodes and the age of the injury are key factors in "worn out" tissues and more associated injuries. This means that it will be progressively harder to repair the shoulder damage.
WHEN SHOULD A SHOULDER DISLOCATION BE OPERATED?
It is recommended to perform a surgical repair by arthroscopy in patients who suffered a 1st dislocated shoulder and who are at high risk of it occurring again. In these cases, the anatomical repair of the lesion achieves better results than in those cases where multiple dislocation episodes have already occurred. It is recommended to seek a specialist's analysis, tailored and personalized for each case.
TYPES OF SHOULDER DISLOCATION
There are several possible names to describe the type of injury we're dealing with: Bankart, Hill-Sachs, ALPSA, HAGL, SLAP… Your arthroscopy specialist will explain what each lesion corresponds to and its most suited solution.
SHOULDER DISLOCATION SURGERY
There are a multitude of shoulder dislocation surgery types (Latarjet, reemplissage, capsular plications, bone bumpers …) to fix these problems. The traumatologist's choice to opt for one or another depends on several factors. Among them are: age, dominant arm, type of sport, type of work, frequency of dislocations, associated injuries… Sometimes, depending on the type of injury and its severity score, several surgical techniques will have to be combined. This is what happened in the case we mentioned earlier on, about Marc Márquez' dislocated shoulder.
---
DO YOU WANT TO CONTACT DR SERGI SASTRE?