4 October, 2019
A sprained ankle: what is it and why does it sometimes take a long time to heal or end up requiring surgery?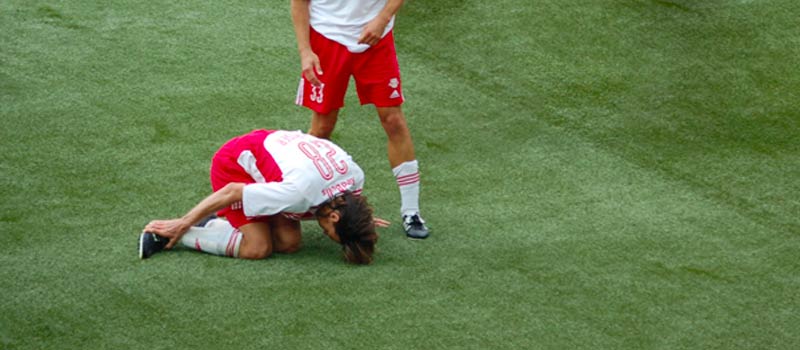 In professional sport, we see athletes who sprain their ankle and who are up and playing without and problem just a few weeks later. On the other hand, we also see athletes who have to undergo surgery to fix their sprained ankle and are inactive for months. We will look at what a sprain is, why it sometimes takes a long time to heal, why ankle pain persists, what causes the dreaded "poorly healed sprained ankle" and why an operation may be necessary…
WHAT IS A SPRAINED ANKLE?
What we commonly know as a "sprained ankle" is an injury to the external lateral ligament of this joint. These ligaments of the foot have 3 fascicules: one anterior, one mid and one posterior. They all originate at the tip of the fibula.
A sprained ankle occurs when the joint is "twisted". In other words, the foot remains pointing inwards, causing injury to the ligaments of the foot and ankle. Depending on the severity of the twisted ankle and the injury, ankle sprains are categorised as grade 1, grade 2 or grade 3.

DO YOU WANT TO TALK TO DR SERGI SASTRE?
ANKLE SPRAIN GRADES ACCORDING TO THE SEVERITY OF THE INJURY
There are different types of ankle sprain depending on how seriously the ankle is twisted:
Grade 1 ankle sprain
Grade 1 ankle sprain is the result of ligament distension. After the ankle is twisted, swelling is minimal and the patient can start sport activity after two or three weeks.
Grade 2 ankle sprain
In this case, the ankle sprain causes a partial tear in the ligaments, causing immediate swelling. Generally, this requires three to six weeks' rest before resuming normal activity.
Grade 3 ankle sprain
A grade 3 ankle sprain is the most severe and involves the complete tear of one or more ankle ligaments. However, surgery is rarely required. The recovery period is usually eight weeks or more, until the ankle ligaments heal.
Why are we not always able to heal a sprained ankle?
In most cases, a sprained ankle will heal after a period of immobilisation and physiotherapy rehabilitation. As such, a sprained ankle generally heals itself. However, there are times when the discomfort persists, when we cannot heal the sprain quickly and without discomfort.
"In most cases, we manage to heal a sprained ankle completely. In fact, they heal all by themselves, after an appropriate period of immobilisation and rehabilitation."
Due to poor healing of the ankle ligaments
In some cases, the ligament heals in an "exaggerated" fashion. This produces a thicker ligament than normal which "rubs" against the talus bone (lower), causing persistent discomfort. In these cases, ankle sprain recovery will take longer and may cause problems that should be managed.
Due to associated injuries
On other occasions, ankle sprains often cause other associated injuries (especially in the cartilage of the talus bone). The presence of these associated injuries means that, once the ankle ligament has healed, discomfort persists. In fact, this is what happens with most "poorly healed ankle sprains". Today, almost all of these problems can be solved by arthroscopy. Your sports injury specialist doctor will be able to diagnose whether or not you have these associated injuries, and which is the best treatment in each case.
THE NEW ANKLE LIGAMENT
It is important to be familiar with the anatomy of the ankle in order to understand what a "poorly healed ankle sprain" is. In this regard, a new ankle ligament has recently been described, which could explain cases of "poorly healed ankle sprain", which up to now were not clear.
The external lateral ligament of the ankle (ELL) consists of three parts: The anterior part has recently been described as a new ankle ligament, which is no more than the identification of 2 ligaments within the anterior part of the ELL. As occurs in the knee, there is part of the external lateral ligament of the ankle that is intraarticular (just like the anterior cruciate ligament, already discussed in other blog entries) and that sometimes does not heal after injury. Thus, a poorly healed ankle sprain could be an injury to the intraarticular part, which does not heal.
Poorly healed ankle sprain
As mentioned above, when a sprained ankle or ELL injury occurs, it usually resolves spontaneously, in line with the grade of injury. If, after 2-3 months, there is still pain in the outer part of the ankle which, instead of improving, worsens, this tends to be because it is not just a "sprained ankle". As mentioned above, there may be other associated injuries, such as a cartilaginous lesion of the talar dome or of the subtalar joint, or a "poorly healed" injury to the joint part of the external lateral ligament of the ankle may have actually occurred. In this case, ankle arthroscopy will be required in order to be able to resume sports activities.
ANKLE PAIN AFTER "POORLY HEALED SPRAIN"
The main cause of persistent ankle pain tends to be incomplete ankle sprain rehabilitation physiotherapy. As with any ligament injury, the ligament heals spontaneously (except in the case of the "new ankle ligament" that we already mentioned). However, as we have also mentioned, this healing may occur in a manner that is too "rigid". Poor healing will cause pain and limited posterior mobility. In these cases, it is always advisable to complete a full physiotherapy programme. Good physiotherapy rehabilitation will help prevent the dreaded "poorly healed ankle sprain".
AND IF THERE ARE OTHER ASSOCIATED INJURIES?
If the ankle pain is not located in the outer part or is diffuse pain, other types of injury should be ruled out. We have already mentioned that associated injuries can initially go unnoticed but then become apparent once the ankle ligament has recovered. One of the most common is cartilage injury to the talus bone. When the ankle is twisted, this cartilage is injured by the counterblow…
WHAT CAN I DO IF I HAVE TALAR CARTILAGE DAMAGE?
Magnetic resonance imaging is usually required to confirm talar cartilage damage. If it is detected, it should be repaired by ankle arthroscopy. The technique is similar to those mentioned previously for knee injuries.
AT WHAT POINT SHOULD I SEE A DOCTOR FOR A POORLY HEALED SPRAIN?
If ankle pain persists and does not gradually improve around 2-3 months after the ankle sprain or injury to the external lateral ligament of the ankle, you will have to undergo some type of test and have it assessed by an orthopaedic specialist. In these cases, and depending on the cause, surgery to heal the ankle sprain may be required.
---

DO YOU WANT TO CONTACT DR SERGI SASTRE?