The Pancreatic and Biliary Disease Unit at barnaclínic+ offers the possibility to arrange an appointment with our centre via the internet. Once your request has been made, we'll get in touch with you, while trying to respect your preferences as much as possible.
THE UNIT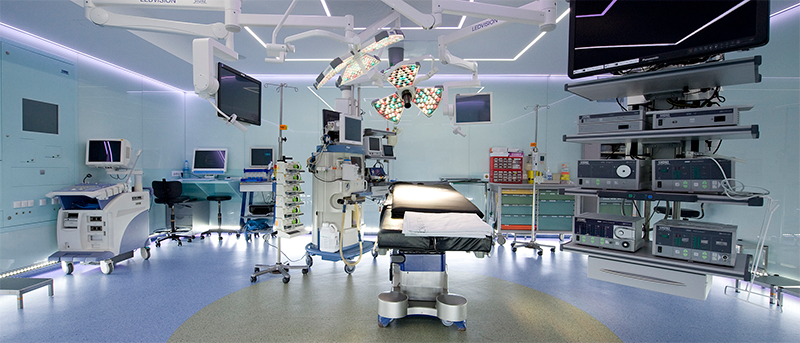 The Pancreatic and Biliary Disease Unit is made up of the following members:

Pancreatic surgery
Dr. Fabio Ausania is a specialist in the treatment of advanced tumours and cystic neoplasms. He leads the programme of pancreas-biliary robotic surgery at Hospital Clínic Barcelona and has performed more than 500 complex interventions on pancreatic and biliary tumours. He is an expert in ablative intraoperative treatments such as irreversible electroporation.
MORE INFORMATION ON PANCREATIC SURGERY AT BARNACLÍNIC+

Diagnostic and therapeutic endoscopy
Dr. Andrés Cardenas and Dr. Oriol Sendino are specialists in the diagnosis and endoscopic approach of the pathologies of the pancreas and biliary tracts and have published numerous studies in this field.
REQUEST AND APPOINTMENT WITH THE DIGESTIVE ENDOSCOPE TEAM

Oncología
Dr. Tamara Saurí is an expert in the oncological treatment of neoplasms of bilio-pancreatic origin and leader of the clinical trial group of chemotherapy for patients who are not candidates for surgical treatments right away.
MORE INFORMATION ON MEDICAL ONCOLOGY AT BARNACLÍNIC+

Interventionist Radiology
Dr. Fernando Gómez is an expert in percutaneous treatments of hepato-biliary-pancreatic neoplasms and has wide experience of carrying out angio-radiological and ablative procedures.
REQUEST AN APPOINTMENT WITH THE INTERVENTIONIST RADIOLOGY TEAM

Pain treatment
Dr. Christian Dürsteler is an expert in the treatment of pain related to pancreatic tumours and to chronic-inflammatory pathologies of the pancreas.
REQUEST AN APPOINTMENT WITH THE PAIN TREATMENT TEAM

Psychology
Dr. Josep Maria Peri is a specialist in the evaluation, diagnosis and therapeutic management of mental disorders and in the emotional, behavioural and cognitive components that take place in patients with medical or surgical pathologies.
MORE INFORMATION ON PSYCHOLOGY AT BARNACLÍNIC+
Nutrition
Betina Campero is a nutritionist specialised in the pre and post-operative optimisation of patients with pancreatic diseases.
WHY CHOOSE THE PANCREATIC AND BILIARY TRACT DISEASE UNIT AT BARNACLÍNIC+?
The professionals that make up the pancreatic and biliary tract disease Unit at barnaclínic+ work in a hyper specialised way on the treatment of these pathologies, offering the maximum commitment to their patients thanks to their teamwork.

QUALITY, SAFETY AND EXPERIENCE
At barnaclínic+ we offer quality and proportionate care by specialists of global recognition whose treatment in our unit guarantees patient safety by putting them in the best hands.

PIONEERS
Our team is made up of professionals at the vanguard of research to offer all the available options in the treatment of the given pathology (robotic surgery and minimally invasive, irreversible electroporation and ablative treatments, diagnostic endoscopy and advanced therapy).
THE BEST FACILITIES
Our centre has healthcare facilities with cutting-edge technology, allowing for safety and efficiency in the treatment of our patients.

ACCESSIBILITY AND COMFORT
Our team is able to adapt to the individual needs of each patient in order to offer the best care available.
HELPLINES - PATHOLOGIES THAT WE TREAT
This is a list of the most frequent diseases of the pancreas and the biliary tracts that we treat, in the links and in our blog you'll find more information.

PANCREATIC AND BILIARY TRACT TUMOUR
Pancreatic and biliary tract tumours are the most aggressive of the digestive tract. Among the factors that determine survival, the speed with which they are treated is the most important. Surgery is the fundamental treatment and the patient's prognosis depends directly on its result. The location of the pancreas inside the abdominal cavity and its relationship both vascular and with adjacent organs add complexity to the surgical intervention. The surgical approach in centres with great experience such as ours can even be laparoscopic or robotic depending on the location and characteristics of the tumour.
PANCREATIC CYST AND CYSTIC NEOPLASM
Pancreatic cystic lesions encompass a combination of entities with different potential for malignization. The study and diagnosis of these lesions are of vital importance, even though the majority of them require surgical intervention to carry out the definitive study and avoid the development of pancreatic cancer. The selection of candidate patients for surgery is carried out via a multidisciplinary process that takes into account clinical, analytical, radiological and endoscopic aspects. Laparoscopic surgery and robotic surgery allow for an early recovery.
NEUROENDOCRINE TUMOUR
Neuroendocrine tumours are tumours made up of specialised cells, they present characteristics of nerve cells, such as endocrine cells (hormonal production). The diagnosis and treatment of these tumours depends on their location, hormonal production, growth and if they have spread to other parts of the body.

ACUTE AND CHRONIC PANCREATITIS
Acute pancreatitis is a disease caused by various mechanisms and at first requires a symptomatic treatment in mild cases. In more serious cases it can evolve and cause necrosis in the pancreatic tissue that can mean a loss in the pancreas' production capacity. In these cases surgery might be necessary to carry out resection of the non-viable tissue in order to avoid complete loss of the pancreas.

GALLBLADDER AND BILIARY TRACT STONES
In the case of pancreatitis of biliary origin, it is produced by the presence of lithiasis or stones in the biliary tract (cololithiasis) and the surgical extraction of the biliary tract is the treatment of choice to avoid future episodes.
DIAGNOSIS OF PANCREATIC AND BILIARY TRACT DISEASES
Early diagnosis in these patients allows for, in the case of malignant pathology, a greater possibility of carrying out greater treatment with higher success rates. Diagnosis of pancreatic and biliary tracts diseases is based on the use of radiological and endoscopic techniques to subsequently make an evaluation in the specialist committee.

DIAGNOSIS VIA IMAGE
The radiodiagnosis team at our centre has the technology for a more advanced diagnosis. In case of requiring interventionism, Dr. Fernando Gómez is a specialist in percutaneous and angio radiological treatment.

DIAGNOSTIC AND THERAPEUTIC ENDOSCOPY
For pancreatic pathology it is often necessary to carry out an endoscopy in order to improve the diagnosis via image such as diagnosis via biopsy, while also allowing for the fitting of a prosthesis or minimally invasive endoscopic treatment. Dr. Andrés Cárdenas and Dr. Oriol Sendino are specialists in the diagnosis and in case it is necessary the carrying out of diagnostic and therapeutic endoscopic procedures.
PROFESSIONALS IN THE UNIT
BLOG OF THE PANCREAS AND THE BILIARY TRACT
The pancreas is a fundamental organ for the digestion of food. It is a gland that makes up part of the digestive system that has a structure with a long shape that weighs 200 grams and measures 20cm in length and is made up of three parts: a head, a body and a tail. It […] La entrada What is the pancreas, what function does it have and what diseases can it develop? aparece primero en Blog de Cirugía del Páncreas.

One of the issues that often generates a great deal of confusion between patients and doctors is changes in pancreatic function following surgery and how to treat it. The worsening of the different pancreatic functions is a well-studied phenomenon, which does not occur in all patients. However, its diagnosis can help to ensure a postoperative period with fewer complications, […] La entrada What happens to pancreatic function after surgery? aparece primero en Blog de Cirugía del Páncreas.