15 June, 2021
The Hospital Clínic Group is the first centre in Spain to have a digital gamma camera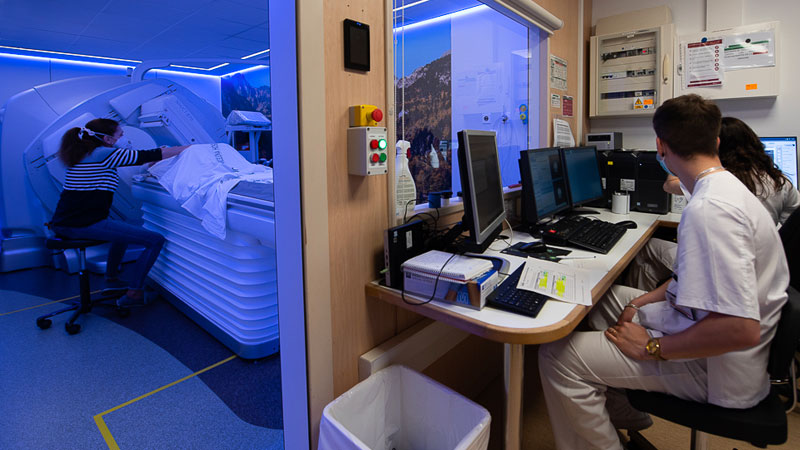 In the study of disease, imaging tests are of great value. Both in the diagnosis and later when planning interventions, knowing exactly what the morphology of an organ or its functionality is like is key. For this reason, in recent years there has been a great technological effort to achieve greater precision in these tests. One of the latest technologies is the digital gamma camera, a device that has just been incorporated into the services of the Hospital Clínic Group, a pioneer in the use of this type of technology throughout Spain.
WHAT ARE GAMMA CAMERAS AND HOW DO THEY WORK?
Gamma cameras are imaging devices commonly used in nuclear medicine for the study of a large number of diseases. It is used for the study of multiple systems such as the osteoarticular, the genitourinary, the digestive, the cardiovascular, the endocrine or the brain, among others.
In order to use it is first necessary to introduce – usually intravenously – a radiopharmaceutical into the patient. Radiopharmaceuticals are medicinal products that result from the union of a normal biological molecule, such as a protein or an amino acid, with an isotope or radioactive substance.
Once the radiopharmaceutical is in the patient's body, the gamma camera is capable of detecting the radiation that this product generates and is thus capable of creating an image that shows the organ's activity at the molecular level. This provides the physician with valuable information on both the morphology and the functionality of the organ or tissue being studied.
ADVANTAGES OF THE DIGITAL GAMMA CAMERA
The digital gamma camera that the Hospital Clínic Group has now incorporated implements direct conversion digital detectors, which are capable of identifying the location of the energy event without the need for approximate calculations. It is also capable of eliminating any analog noise that may occur, avoiding signal loss. In this way, the performance of the equipment is improved, as well as its clinical usefulness.
An important advantage of this new digital gamma camera is that it is capable of substantially reducing the scanning time required to create the images. So much so that it is possible to increase the number of examinations performed in the same period of time by up to 30%, which significantly reduces waiting lists. Considering that this type of test is performed for a large number of diseases, this is a very significant advantage.
With the new digital gamma camera it is possible to increase the number of scans carried out in the same period of time by up to 30%
The other area of improvement of the new digital equipment is that of the resolution of the images that are generated. This is much greater with this gamma camera, which ends up translating into greater diagnostic precision and it is possible with it to detect small lesions that with analog equipment could go unnoticed.
---
DO YOU WANT TO MAKE AN APPOINTMENT WITH NUCLEAR MEDICINE OR DO YOU NEED A PICTURE DIAGNOSTIC?