19 August, 2015
The team of Dr. Antonio Alcaraz combines robotic and NOTES surgery to perform a kidney transplant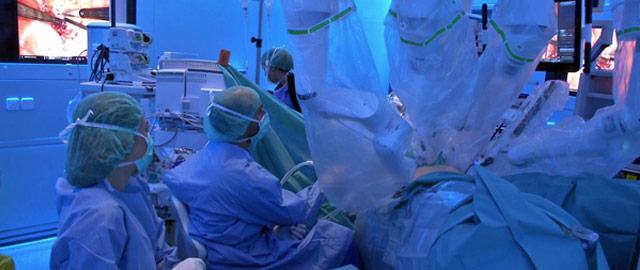 This last July, a team led by Dr. Antonio Alcaraz , head of the Department of Urology at the Hospital Clínic de Barcelona and specialist of Urology barnaclínic+, has performed two kidney removals through the vagina of the donors, leaving them with no scars, thanks to a technique called transvaginal nephrectomy . Then, they implanted them in recipients using robotic surgery, using the state-of-the-art, Da Vinci Xi robot.
In 2016, Dr. Alcaraz's  team will use this surgical technique in more than 40% of 60 transplants which are carried out every year on living donors.
Until now, renal transplants were performed in open surgery. According to Dr. Alcaraz , "It's a matter of a paradigm shift in carrying out this type of intervention".  Robotic surgery is a revolution in surgery and transplantation because, despite needing a similar amount of time to do it, complications are minimized and the recovery time for the transplanted patient is reduced considerably. Dr. Alcaraz remarks that "minimally invasive techniques were already being applied in other surgeries". "Now, they have come to renal transplants", the barnaclínic + specialist also announces.  He states "the goal of our team is to perform kidney transplantations in a systematic way using this technology".
In the two transplants performed by Dr.Alcaraz's team as well as implanting kidneys through robotic surgery, for the removal of the organ from the donor, they have used the one known as Advanced surgery NOTES (Natural Orifice Transluminal Endoscopy Surgery). The difference between this technique with conventional laparoscopic surgery is that, through the transvaginal or transumbilical nephrectomy, organs are accessed via natural orifices (the vagina and navel, respectively) for their removal.
Dr. Alcaraz's team developed this technique and they are considered a world reference, having carried out more than 100 interventions. Advanced surgery NOTES  prevents external scars, reduces postoperative pain and reduces hospital stay to 48 hours.