Are you interested in undergoing a genetic study to detect the risk of cancer?
barnaclínic+ invites you to make an appointment to undergo a cancer risk genetic study. Once you have submitted your request, we will contact you and undertake to respect your preferences as much as possible.
WHAT IS HEREDITARY CANCER?
Hereditary cancer is one caused by a hereditary predisposition. Up to 10% of all cancers are hereditary. This means that the mutation of certain genes is repeated among members of the same family, an alteration that increases the risk of developing tumours.
«Up to 10% of all cancers are hereditary. The mutation of certain genes is repeated among members of the same family»
WHY IS IT USEFUL?
With this cancer risk genetic study, information is obtained that reveals whether there is a higher risk of developing certain types of tumours. With this information, we can find the cause of the cancer, start prevention and early detection measures to prevent its onset or detect it in very early stages, and even help in family planning (if we wish to avoid transmission of the gene abnormality to offspring).
WHO CAN BE INTERESTED IN THE GENETIC TEST OF CANCER RISK DETECTION?
The cancer genetic study may interest, on the one hand, people without cancer pathology who have a family history of cancer. On the other hand, it is also of interest for patients with cancer who have a family history of cancer, a younger age of diagnosis than would be expected in the general population, bilateral or multifocal tumours, more than one primary tumour or infrequent or characteristic tumours.
HOW DO YOU KNOW IF YOU ARE A SUBJECT ABLE TO TAKE A GENETIC TEST?
In order to know if the study criteria are met, it is necessary to have a first visit with a genetic counsellor so that the risk of cancer can be well assessed. In this visit, a thorough review of personal and family history will be conducted, and the likelihood that it may be a hereditary cancer will be established.
CANCER RISK GENETIC STUDY AT BARNACLÍNIC+
At barnaclínic+, we offer holistic care throughout the hereditary cancer diagnosis procedure carried out by experienced professionals. We offer full genetic counselling and study, with the latest technology and the best interpretation and communication of results by professionals who are experts and international leaders in their field.
At barnaclínic+ we offer comprehensive care in the process of diagnosis of hereditary cancer by professionals with proven experience. With respect to the genetic study, we offer complete genetic counselling, with the latest technology, and the best interpretation and communication of the results by expert professionals and international leaders. Our offer consists of a visit prior to and another following the genetic test, in addition to a later referral with the indicated specialists depending on the results.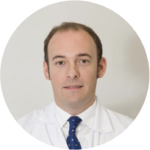 «Today, at barnaclínic+, we have the possibility to perform genetic testing and analyze up to 94 genes which will allow us to identify the different hereditary cancers that exists. It's identification is important because it will allow us to a series of preventive mesures»
TYPES OF GENETIC STUDY
Two types of genetic study to detect the risk of cancer can be performed: On the one hand, the person who wants to undergo the study may be the first of their family. On the other hand, a gene abnormality may have already been detected in the family and they want to know if the mutation has been inherited.

First case in a family with suspected hereditary cancer
In the first case of genetic test to detect hereditary cancer, several genes are studied at the same time (by next-generation sequencing) related to any cancers in their family. This technique makes it possible to see gene sequence abnormalities and, increasingly, it also allows abnormalities in its structure to be observed. The technique used in this case is laborious, since all genes associated with a particular cancer must be analysed.
Family in which the causative mutation is already known
In the second case of genetic study to detect the risk of cancer, only the genetic abnormality detected in the family is studied (by Sanger sequencing). Unlike the previous technique, looking for a specific abnormality is faster and simpler.
WHAT WE OFFER
The barnaclínic+ cancer risk genetic study involves a number of steps:

GENETIC COUNSELLING CONSULTATION
At this first visit, the individual's personal and family history is collected, the risk of cancer is assessed and it is decided whether or not it meets the study criteria. How the study works and its implications are explained.
CANCER RISK GENETIC STUDY PROCEDURE
A blood sample is taken and analysed.
VISIT TO RECEIVE RESULTS
At a second visit, the results of the study are given and appropriate risk recommendations explained. Information regarding whether other tests are required or if the study needs to be extended to other relatives is also provided. At this time, and if necessary, the case is referred to the specialists responsible for follow-up.
Oncology blog
Liquid biopsy or fluid biopsy is a new cancer diagnosis and follow-up test. It consists of a blood test that can either confirm or rule out the presence of tumour cells in the blood and, if present, analyse their DNA to personalise or adapt the treatment. NON-INVASIVE CANCER DIAGNOSIS Until recently, to diagnose cancer or to monitor its progression, it was necessary to […] La entrada Liquid biopsy, diagnosis of non-invasive cancer, personalised treatment and follow-up aparece primero en Blog de Oncología.

Array

For the past few days, barnaclínic+ has been offering the possibility of carrying out a genetic test to detect cancer risk. It is an early detection test for the risk of developing some types of cancer and, above all, what is known as hereditary cancer. WOULD YOU LIKE MORE INFORMATION ABOUT THE BARNACLÍNIC+ GENETIC STUDY OF CANCER RISK? FURTHER INFORMATION La entrada New barnaclínic+ genetic test to detect risk of cancer, early diagnosis and prevention aparece primero en Blog de Oncología.