28 June, 2019
Scleral lenses, the best choice for corneal defects and dry eyes, now at barnaclínic+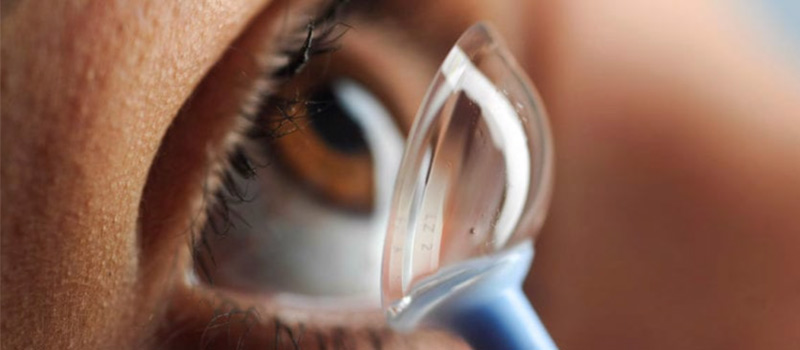 The barnaclínic+ ophthalmology department offers a new service for those contact lens wearers who, owing to their condition (keratoconus, cornea transplant, severe dry eye syndrome), cannot wear conventional contact lenses. Scleral contact lenses or scleral lenses, now available at barnaclínic+, are the best option for these patients.
What are scleral lenses?
Scleral lenses are a type of contact lens which, owing to their material and shape, do not rest on the cornea (the transparent part of the eye) but on the sclera (the white part of the eye). This type of "scleral support" prevents possible corneal irregularities and creates a space between the lens and the cornea itself, which helps to ensure that the eye is always moist, thereby improving visibility, the symptoms of dry eye and delaying the need for a corneal transplant.
FURTHER INFORMATION ON SCLERAL CONTACT LENSES
Who can benefit from the use of scleral lenses?
Scleral contact lenses are semi-rigid lenses that are particularly useful in patients who have corneal irregularities or in whom rigid lenses cannot be centred properly.
As such, scleral lenses are the best option for patients with keratoconus, pellucid marginal degeneration or post-LASIK ectasia and/or who have undergone keratoplasty, the implantation of an intracorneal ring or a corneal transplant. They are also an optimal option for those people who cannot use conventional contact lenses owing to the presence of corneal scars or epithelial defects.
In addition, individuals suffering from severe dry eye syndrome can also benefit greatly from the use of scleral lenses. With the use of these contact lenses, the symptoms of dry eye, such as ocular itching or stinging, will be drastically reduced.
For these patients, scleral contact lenses represent a simple and safe option to treat high refractive errors, such as myopia, hyperopia or astigmatism.
BENEFITS OF USING SCLERAL LENSES
How do you put scleral contact lenses in?
A suction cup is required both to put scleral contact lenses in and to take them out. The lens profile also needs to be adjusted and customised for each patient. For this reason, in order to explain their use and adapt the lenses, an initial ophthalmological visit and several optometrist visits will be needed. During the visit, the patient will learn how to put the scleral lenses in and take them out using the suction cup. In addition, it will also be explained how to maintain them and how to fill the scleral lens with saline solution to prevent dry eye.
---
WOULD YOU LIKE TO SPEAK WITH OUR OPHTHALMOLOGY TEAM OR WOULD YOU LIKE MORE INFORMATION ABOUT SCLERAL CONTACT LENSES?