WHAT IS IT?
Erectile dysfunction or impotence is a very frequent disorder, which affects a large amount of Spanish men. The first line treatment for the erection is with drugs, such as Sildenafil, Vardenafil and Tadalafil. However, in those men who do not respond to this treatment, the best option for normalising their erection is a penile prosthesis implant.
THE PROCEDURE
This is a surgical procedure, which places a penile prosthesis in the corpora cavernosa. This surgery allows erections without any change in sensitivity, touch or ejaculation. The prosthesis is completely situated inside of the body, and there are no visible scars or marks. In most cases, one is able to return home 24 hr. after the surgery and continue sexual activity 6 weeks after the surgery.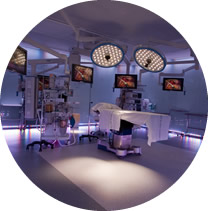 THE BEST PROFESSIONALS, FACILITIES AND TECHNOLOGY
The Urology and Men's Health Unit includes the top professionals, the most modern operating rooms and the leading hospital rooms to ensure the surgery is a success. In addition, we only work with the best and most modern prostheses as well as the most advanced technological materials for the optimisation of surgical results.
Ya hemos hablado otras ocasiones de la prótesis de pene como tratamiento para la disfunción eréctil. En este post explicaremos sus beneficios, analizaremos con detalle los tipos de prótesis de pene y repasaremos las pocas complicaciones que pueden aparecer. Como hemos visto en otras entradas, la colocación de una prótesis de pene es un tratamiento eficaz para […]

Leer más sobre "La prótesis de pene, el tratamiento más satisfactorio y duradero para disfunción eréctil"

  Hace algún tiempo os hablamos del lanzamiento de la app Men's Sexual Medicine, una nueva aplicación para dispositivos Android e IOS que surgía con el objetivo de ayudar a los hombres a controlar mejor su salud sexual. Hoy, tan solo cinco meses después, la aplicación para dispositivos móviles cuenta ya con más de 10.000 descargas, lo […]

Leer más sobre "La app Men's Sexual Medicine supera las 10.000 descargas"

La prótesis de pene es un tratamiento eficaz y seguro para el tratamiento de la disfunción eréctil. Para colocarlas es necesario recurrir a la cirugía en una intervención que tiene pocas complicaciones. Sin embargo, si presentan un inconveniente, y es que pueden llegar a infectarse y, en ese caso, deberán retirarse. Tradicionalmente, un médico especialista […]

Leer más sobre "Una nueva opción para las infecciones de las prótesis de pene"