WHAT IS IT?
Erectile dysfunction affects one in every five Spanish men and especially men over the age of 50, which may be due to an illness such as hypertension, obesity, diabetes and heavy smoking. In some cases, erectile problems are the first symptoms of heart disease.
On the other hand, erectile dysfunction may be due to a psychological problem, such as anxiety, stress or problems in the relationship. Therefore, when there is an erectile problem, seeing a doctor is highly recommended in order to rule out any other health problems.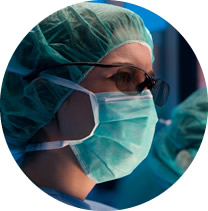 THE BEST PROFESSIONALS
In the Urology and Men's Health Unit, we have the best professionals and the best technology to carry out the most accurate diagnosis of erectile problems:
Virtual CNG

Biochemical findings

Hormone findings

Inflammatory marker findings)
Our professional team (urologists, cardiologists, psychologists, dieticians, endocrinologists) will make a comprehensive diagnosis and treatment designed to needs meet the needs of each particular patient.
More information on the treatment of erectile dysfunction ...
La disfunción eréctil es la patología estrella de la andrología, debido a que afecta a un gran porcentaje de hombres (hasta a uno de cada 5 hombres mayores de 18 años) y que produce un gran estrés psicológico, inseguridades e insatisfacciones sexuales. En este artículo vamos a ver su relación con la diabetes. Su causa […]

Leer más sobre "Si comes muchos dulces se te caerán… las erecciones"

La disfunción eréctil es una patología común que puede afectar hasta el 50% de los hombres de entre 40 y 70 años. Pese a que no se trata de una patología que amenace la esperanza de vida de los pacientes (excepto en los casos en los que la cardiopatía isquémica es la causa), sí que […]

Leer más sobre "Tratamientos combinados para la disfunción eréctil"

La gota es una enfermedad reumatológica que se debe al ascenso de ácido úrico en la sangre y que se traduce en la posterior cristalización del urato en articulaciones, tejidos blandos y riñones, entre otros órganos. Suele cursar en forma de ataques de dolor con aparición de tofos en articulaciones, como la rodilla o el […]