WHAT IS IT?
Adequate dietary habits are essential in order to stay healthy and also be able to maintain optimal sexual health. Some diseases related to inadequate dietary habits, such as diabetes, hypertension, cholesterol, and obesity, are directly correlated to sexually related problems such as erectile dysfunction and testosterone deficit. On the other hand, adopting a healthy lifestyle is of vital importance in order to maintain not only our general health, but also for the treatment of sexually related problems.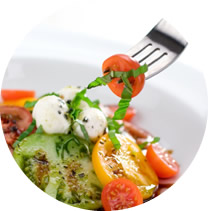 PERSONAL ATTENTION
In the Urology and Men's Health Unit, our team of dieticians will show you the foundations of a balanced diet. They will also design a personal diet for you, adapted to your preferences and the complications that need to be corrected, as an individualized treatment achieves more successful and effective results.
Una de las urgencias más comunes en urología, junto al colico nefrítico y la hematuria, es el dolor testicular. Y es que los hombres podemos tener un dolor de espalda de muerte, que no vamos a urgencias. Eso sí, nos duele el testículo y se nos cae el mundo al suelo. Por tanto, hoy vamos […] La entrada Diferentes tipos de dolor testicular se publicó primero en Blog de Men's Health.

La hiperplasia benigna de próstata es una de las patologías que más malestar produce en los hombres y por tanto, es un motivo de consulta habitual en urología. El crecimiento de la próstata, que es fisiológico (no es maligno), puede obstruir el tracto urinario inferior y dificultar el flujo de orina. Esto produce una serie […] La entrada Si te engordas, tu próstata también se publicó primero en Blog de Men's Health.

La litiasis renal o cálculos o piedras en los riñones, afecta principalmente a personas entre 30-60 años y se presenta con mayor frecuencia en hombres. Hay diversos factores que pueden afectar o intervenir en su formación: por un lado, el aumento de la concentración de solutos en la orina, como calcio, ácido úrico o cistina, […] La entrada Dieta contra las piedras en el riñón se publicó primero en Blog de Men's Health.