Our aim is to make your dream a reality: becoming pregnant.
The leading medical team at FIVclínic has the experience, and commitment to the patient that our clients need and expect. We are constantly working towards greater personalisation of treatment, so that we make certain that we find the one that is right for you.
Our Unit
5

SPECIALIZED GYNAECOLOGISTS

3

SPECIALIZED NURSES

5

BIOLOGISTS

6

ADMINISTRATIVE

Geneticists

Genetic counsellors

Endometriosis specialists

Hemotherapy and haemostasis specialists

Hysteroscopic specialists

Andrologists

Fetal Medicine Specialists

Psychologists

Nutritionists
Our facilities and technology
LABORATORY TRA
With the most advanced technology and equipment:
6 CONSULTING ROOMS

4 IMPLEMENTATION ROOMS

5 RECOVERY ROOMS
Lines of care
Complex-based disease

High-risk pregnancy
Process

1. REQUEST THE FIRST VISIT
Face-to-face or telematics.

2. FIRST APPOINTMENT
The case is evaluated, and necessary tests requested.

3. TESTS
Study of the ovarian reserve, 3D ECO, seminogram, karyotypes and others.
4. RESULTS AND TREATMENT ORIENTATION APPOINTMENT
Face-to-face or telematics.

5. EXPLANATION OF THE MEDICATION

6. TREATMENT
Ultrasound and analytical controls. In-person or online.

7. PRESENTIAL PROCESS
Oocyte extraction, intrauterine insemination and/or embryo transfer.
8. PREGNANCY ULTRASOUND
Face-to-face or telematics.
Do you want to do a treatment with us but you are outside of Barcelona or cannot stay for more than two weeks?
No te preocupes, podemos programar todo el tratamiento y minimizar tu estancia. Solicita una primera visita con nuestros profesionales por vídeo conferencia.
Results
IN VITRO FERTILIZATION WITH OWN OOCYTES
Our aim is to make your dream a reality: becoming pregnant. To make sure that you have all the information at your fingertips, and all the options to help make it happen.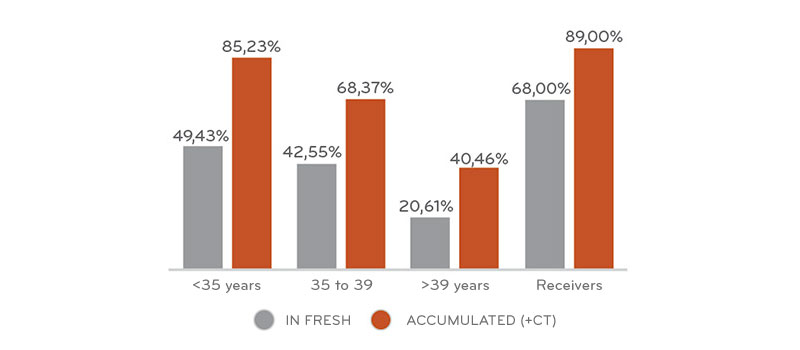 OOCYTE DONATION PROGRAM
Oocyte donation is a treatment whereby eggs are donated, and it is the process with the highest probability of achieving pregnancy being successful in 80% of cases.
Quality verified by our patients and the main companies
Our surveys guarantee our service and professionalism towards the patient. The degree of satisfaction is high in all aspects.
FIVClinic Blog
In assisted reproduction, the concept of ovarian reserve is used to assess the number of eggs a woman has left. Contrary to what happens with sperm in men, the number […] L'entrada What is low ovarian reserve and what therapeutic options do you have? FIV Clínic.

Elective fertility preservation is a technique that allows us to preserve gametes (oocytes or sperm) to have the opportunity to gestate a genetically own embryo in the future. It is […] L'entrada Elective fertility preservation: is it an option for me? FIV Clínic.

If you want to achieve a pregnancy with a sperm bank, you have several treatments at your fingertips. One of them is natural cycle IVF, an usual technique at FIVclínic, […] L'entrada Natural cycle in vitro fertilization with sperm donor: what are the advantages? FIV Clínic.