17 July, 2018
Umbilical hernia: causes, symptoms, complications and treatment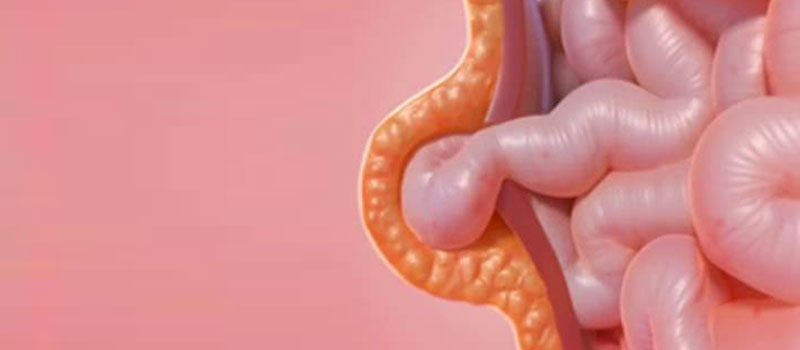 Umbilical hernia is the most common abdominal wall hernia. Like all hernias, it consists of intra-abdominal content, covered by the peritoneal membrane, extruding from an orifice in the abdominal wall. In this case, as the name indicates, it extrudes through the umbilicus.
UMBILICAL HERNIA IN INFANTS
The umbilicus is the point of insertion of the umbilical cord in the embryonic phase. After birth, it usually closes naturally. If the orifice fails to close, an umbilical hernia may form in the infant, although it is rarely operated on in infancy.
CAUSES OF UMBILICAL HERNIA
The main causes of umbilical hernia in adults are related to:
– Incomplete closure of the umbilical orifice after birth that remains into adulthood.
– Undertaking intense physical exertion without due care, which greatly increases intra-abdominal pressure. This is transmitted to the midline of the abdominal wall and specifically to the umbilicus, rupturing this area.
– They are more common in obese people, who by definition have higher intra-abdominal pressure and weaker abdominal wall tissues.
SIGNS AND SYMPTOMS OF UMBILICAL HERNIA
For diagnosis, the most common signs and symptoms of umbilical hernia are the same as for any hernia. In other words: the appearance of a bulge at the umbilicus that varies in size (increases and decreases) and, in most cases, pain in the affected region.
DIAGNOSIS OF UMBILICAL HERNIA
The signs and symptoms of umbilical hernia are so obvious and recognisable that other tests are not usually necessary. However, in very rare cases, an imaging test such as an ultrasound may be necessary for a comprehensive or definitive diagnosis.
UMBILICAL HERNIA COMPLICATIONS
The complications that can stem from an umbilical hernia without timely treatment can be serious or very serious. Over time, contents from inside the abdomen may extrude and not be able to be pushed back in again, causing incarceration. If part of the intestine extrudes from the orifice and is not pushed back in soon enough, it may become strangulated, leading to bowel perforation, peritonitis and severe or fatal infection. It is therefore very important not to let it come to this, but to see a specialist physician and schedule surgery as soon as possible.
TREATMENT OF UMBILICAL HERNIA
This condition is treated surgically. If the orifice of the hernia measures less than 1.5–2 cm in diameter, some surgeons prefer to simply suture it closed (herniorrhaphy). They only use a mesh (in addition to sutures) to reinforce the area if the orifice is larger than 2 cm (hernioplasty).
Although there is no clear consensus on this point, in general, the systematic use of reinforcing mesh lowers the chances of recurrence (another rupture).
---