15 July, 2015
New technology for the operating theatre for hepatic, biliary and pancreatic surgery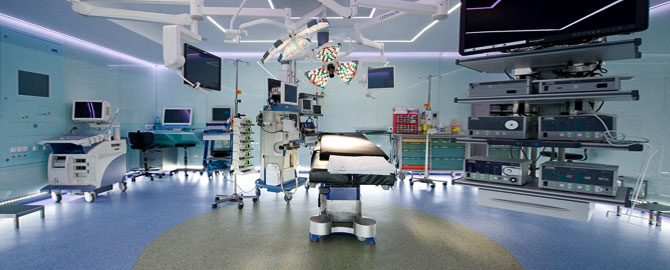 The Hepato-biliopancreatic surgery unit at the Hospital Clínic Group is enjoying using a new endoscopic technology system that gives the surgeon more precision in the operating theatre and a more reliable diagnosis.
The facilities have been completely renovated, incorporating the latest technology in integrated operating rooms. With this renovation, the operating unit led by Dr. Juan Carlos Garcia-Valdecasas, has been converted into one of the best equipped operating theatres in the continent for this type of surgery.
Dr. Juan Carlos Garcia-Valdecasas, Chief of General Surgery and Digestive at the Hospital Clínic, specialist at barnaclínic+ and responsible for this unit, explains that "in hepatic, biliary and pancreatic surgery it is vital to distinguish structures clearly as well as the vascularization of organs" . New technology in the operating theatre allows a differential visualisation, thanks to adaptive illumination  and one guided by fluorescence that improves vision and identification of tissues and structures.
Among other innovations,  SPIES technology® (Karl Storz ®) for endoscopic vision, offers the new operating theatre at the   Hepato-biliopancreatic surgery unit the ability to perform three diferent types of endoscopy (rigid, flexible and 3D Full HD). In addition, fluorescence-guided surgery, a technique that uses ICG (indocyanine) and allows us to visualise non visible anomalies under conventional white light thanks to a special way processing of the images. This technique allows a more accurate diagnosis in situations with low light, with little differentiation of tissues and/or a blurred image.
Dr.  García-Valdecasas  values the installation of this new technology in the operating theatre as a "qualitative leap for its great versatility "and indicates that it will allow them to perform "surgery with higher precision and enable high quality teaching" to take place.