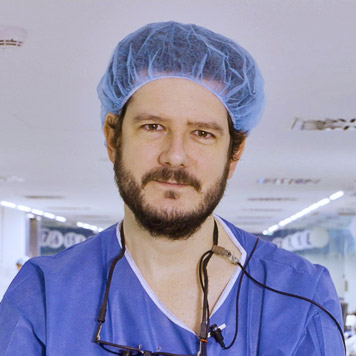 EXPERIENCE
- More than 10 years of experience
- More than 250 cardiac interventions performed each year
Specialisation
· Minimally-invasive cardiac surgery. Thoracoscopic Port-Access surgery.
· Mitral and aortic valve repair and surgery for atrial fibrillation.
· Surgery of the thoracic aorta and Marfan's Disease - Valve-sparing root replacement.
· Repair of congenital heart disease in adults and surgery for hypertrophic obstructive cardiomyopathy.
· Mechanical Circulatory Assist Device and cardiac transplantation.
Success rates
· Mitral regurgitation repair rate for degenerative disease: 100% (>70% performed thoracoscopically)
· < 1% in-hopistal and 30-day mortality.
· Complications: <1% postoperative stroke; <1% mediastinitis/sternal dehiscence, <3% reoperation for bleeding.
RESEARCH
- Author of 50 national and international scientific publications.
- Participation in more than 40 national and international scientific meetings.