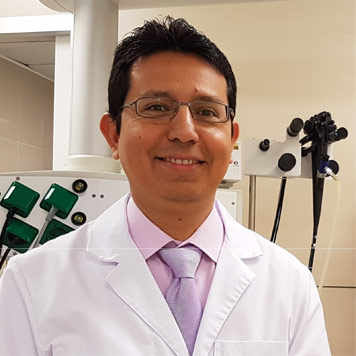 AREAS OF INTEREST:
· Digestive Endoscopy: Gastroscopy / Colonoscopy
· Advanced endoscopy of PEG placement, varix ligation, complex polypectomies, hemostasis techniques, prosthesis placement, stenosis dilatation, Argon-beam lesion treatment, among others.
· Diagnostic and therapeutic ERCP (cannulation, sphincterotomy, extraction of calculi, placement of prosthesis, etc.).
· Endoscopic capsule technique and echoendoscopy.
· Treatment of Barrett's esophagus with mucosectomy and radiofrequency ablation.
EXPERIENCE:
· More than 10 years of experience.
· Performing approximately 150 retrograde cholangiograms per year.
· Performing more than 900 annual gastroscopies and more than 1600 annual colonoscopies.
RESEARCH:
· 7 research projects.
· More than 50 publications, national and international, and book chapters.
· 15 national and international conferences.
· More than 100 presentations in national and international congresses.