26 November, 2015
The Hospital Clínic awarded the TOP20 for the fifteenth time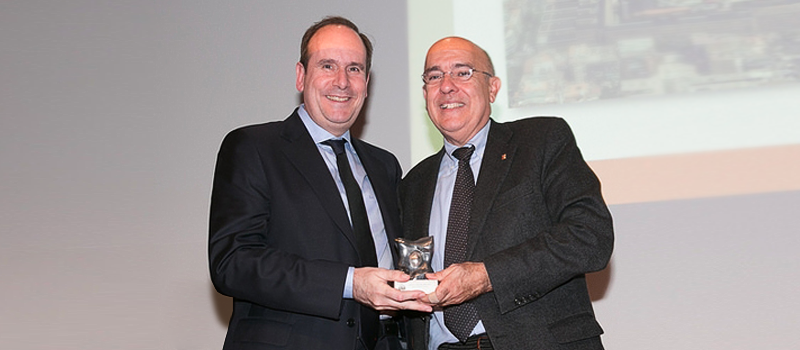 For the fifteenth time, the Hospital Clinic has been awarded a TOP20 Award. The awards are granted annually, and by the company IASIST for sixteen years. The TOP20 Awards recognize the best Spanish hospitals and the best clinical areas of the year.
The Hospital Clínic of Barcelona, which presents itself together with the Hospital of Sant Joan de Deu, has been awarded in the category of Best Global Hospital Management, apart from for their activity in the clinical areas of Musculoskeletal and the Nervous System.
Dr. Josep M. Segur, Director of the Institute Clinic of Medical and Surgical Specialities (ICMEQ) and specialist of the service of Orthopedic Surgery and Traumatology  barnaclínic+, attended the TOP20 Awards cermony on behalf of the institution which took place on Monday, 24 November.  Boi Ruiz, the Minister of the Health of the Generalitat of Catalonia was responsible for giving the three awards to the Hospital Clínic.
The clinical areas were awarded on the basis of the results of their activity during the year:
The Musculoskeletal area: The results in the procedures for hip fractures, osteoarthrosis with hip prostheses, knee prostheses and back surgery.
The Nervous system area: For the results in procedures for treating ischemic strokes, hemorrhagic strokes and neoplasia of the central nervous system.
It should be noted the high level of participation of this edition, in which 155 hospitals; 114 public and 41 private have voluntarily taken part.